Burnt Ridge Nursery is open for drop-ins and plant browsing during the summer and fall (From July-December). Many selections of fruit trees, shrubs and vines are available. Several varieties are in pulp pots to reduce transplant shock and to make summer transplanting a breeze. Staff will be on hand to answer questions and to help you make selections.
Summer Drop-in Nursery hours: M-F 9:00am to 4:00pm and Sat-Sun 9:00am to 3:00pm
If you're looking for information about our Summer and Fall 2023 farm tours, which feature a longer presentation and guided walking tour, click here!
Weekly Gardening Classes/Orchard Mini-Series
Come unwind a bit and join us for our weekly gardening classes. This summer we will be hosting interactive presentations about edible landscaping. Each session will run for an hour and a half, with time for questions, answers, and browsing the nursery.
To be able to have a lively discussion and time for individual questions we have decided to keep the groups small. The presentations are limited to 10 people per event. Tickets are $12.00 each. The Family Days are limited to 8 families. Tickets are $10.00 per family.
All events will be held outside with protection from the elements.
You may purchase a ticket below or contact our office to reserve a spot. 360-985-2873
SOLD OUT - Making the Most of your Harvest
RESCHEDULED - Rare and Underappreciated Fruit Trees - now offered on Wednesday, Sept 13th 1-2:30
SOLD OUT - All about Nuts - Food Timber and More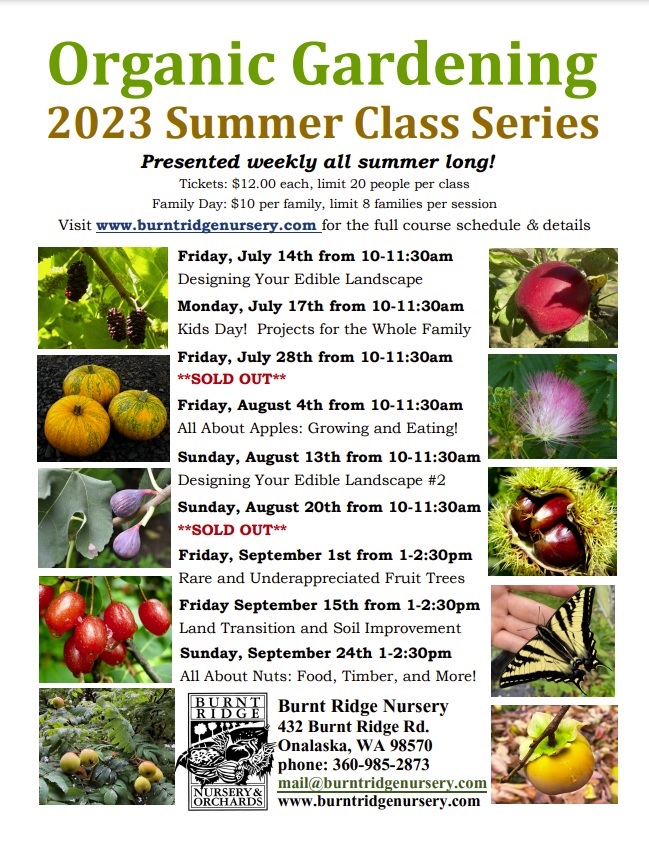 Click here to view items for:
Winter / Spring (Jan-June) Fall (Nov-Dec) Summer (July-Oct)